A blog post by Jeff Woodward, Director of Client Productions
"Use the right tool for the right job in the right way". What does that mean when you're building online educational experiences? At Onlea, we believe in creating everything we do with intent. That means there are no small decisions when we're preparing to produce a course. Most recently we began filming for a new MOOC we're making with the University of Alberta called Bugs 101.
What that means if we're filming a wide variety of objects and creatures out in the field this summer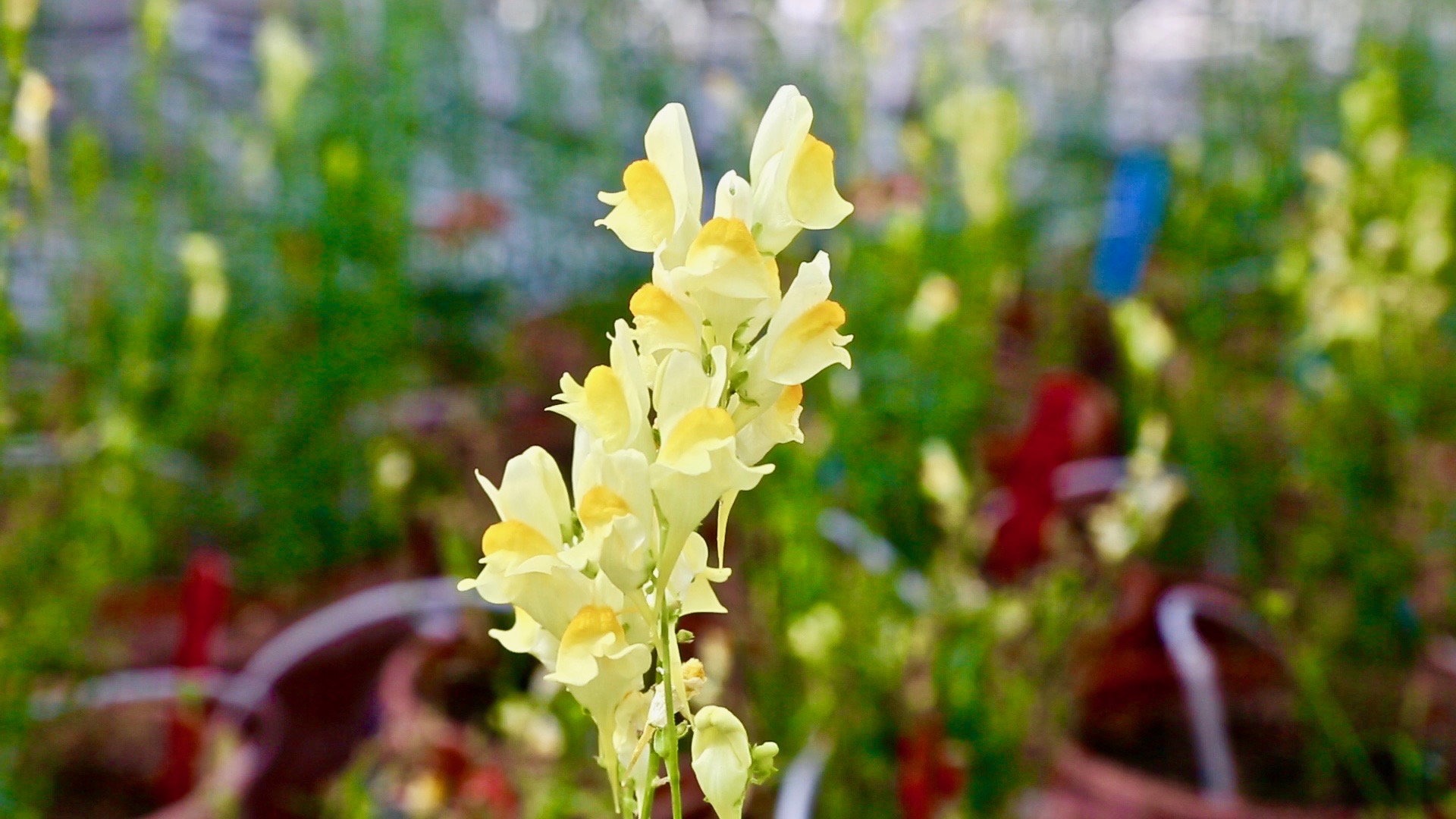 and I'd like to talk about the tools we're using to capture those images. Lenses are the eyes for our learners and with a subject like insects it's incredibly important that you've got good eyes. With that in mind I thought I'd share the inventory of image capturing tools we're using on our filming this summer for Bugs 101.
Studio Filming:
As mentioned in a previous blog post we're filming all of our presenters on a set rather than a green screen for this MOOC. We did this for a couple of reasons; first of all we've learned that when using non-professional presenters it's better to have them do their presentations in a "real world" environment rather than on a green screen. It allows them to be anchored in a real environment and focus on their content. We also wanted to have the luxury of a couple of different frame sizes for editing so we're shooting "Clint Eastwood" style. Mr. Eastwood commonly uses to cameras stacked one on top of the other to capture his wide angle and his close up angle. This lets us seamlessly cut between a wider shot and a close up shot to cover gaffes and keep things visually interesting for our learners.
What we're using:
We shoot on Black Magic Cinema Cameras in our studio and use Canon EF mount lenses on them. For our wide shot we're using a Sigma 10-20mm lens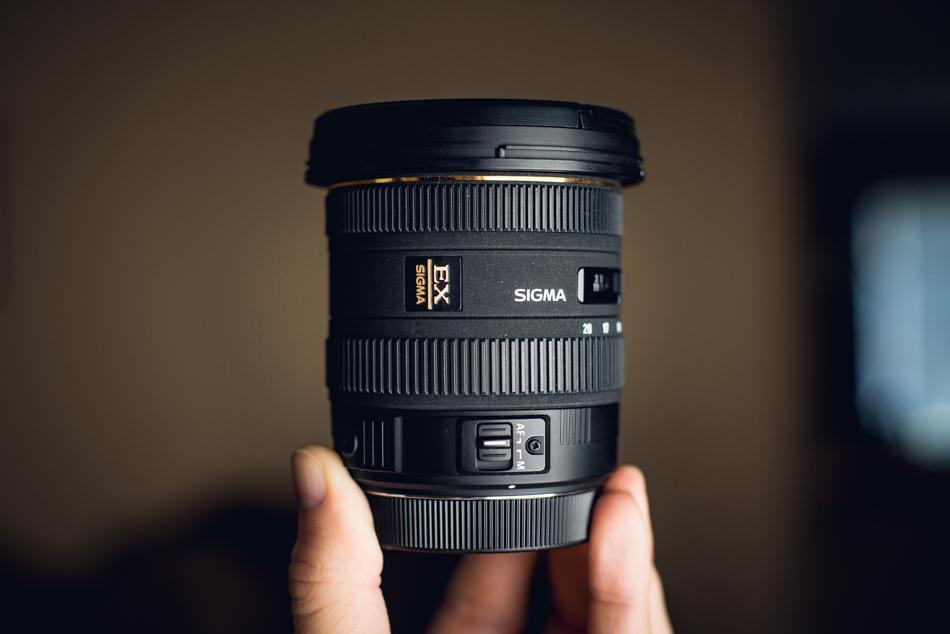 at about a 17mm focal length which gives us a view of the entire set, lets our presenters be as expressive as they want to be, and lets us present visuals next to the presenter as they talk about them even without a green screen. For our closeups we're using a Canon 24-105mm lens
at about a 35mm focal length to get a nice intimate frame of our presenters that we can cut away to and create a real bond between our presenters and our learners.
Field Filming:
As you might imagine from a MOOC called Bugs 101, we're filming a fair bit on location over this insect season to try and capture just a tiny slice of the teeming life that is insects in our world. Filming creatures as tiny, diverse and elusive as insects obviously presents some unique challenges so we're using a wide array of tools to let our learners get closely acquainted with all the creepy, crawly, flying insects we want them to see and learn about.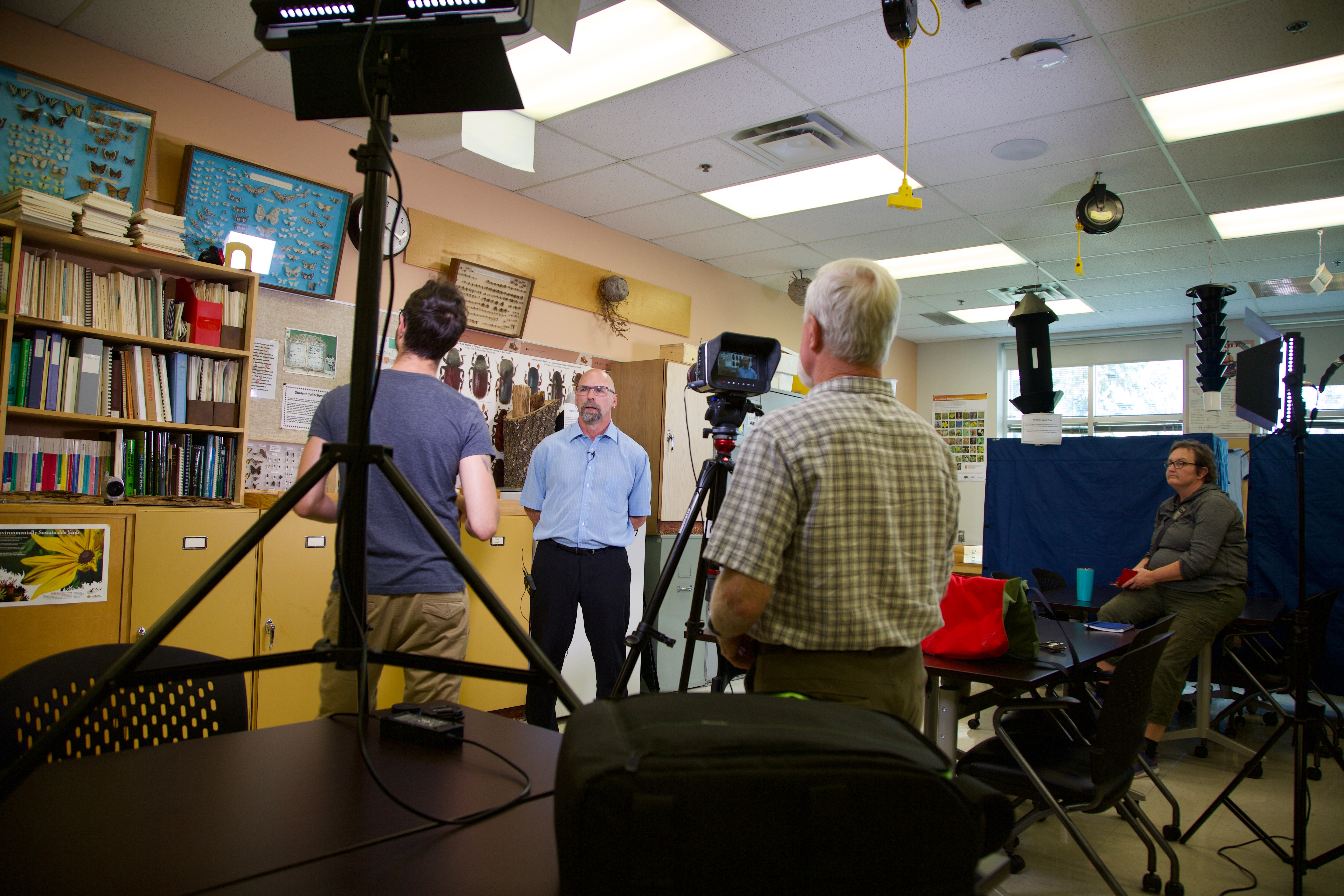 What we're using:
In addition to the Black Magic Cinema Cameras we use to film field interviews and B Roll, we're also employing a roster of cameras, lenses and tools to create an engaging and immersive learning environment for course students. We've also used, at one time or another, a Canon 5D Mark 3, and Panasonic mirrorless camera. We've been using these various cameras to get into tiny spaces, to shoot in environments with poor lighting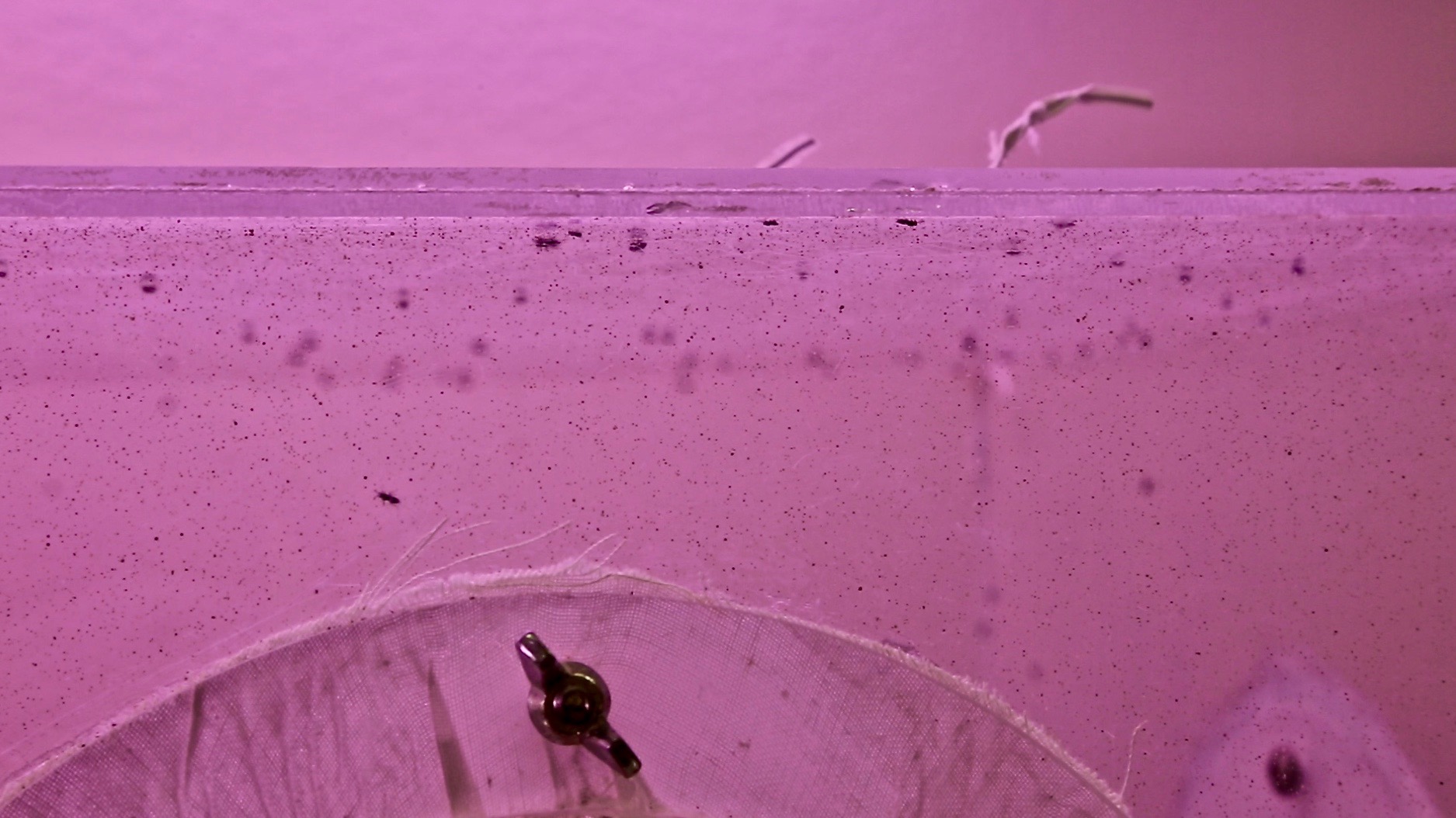 that we can't bring big lights into, and to capture multiple angles and perspectives. We've used everything from a big 400mm telephoto lens (to capture a swarming hive of bees that we didn't want to get close to), to an ultrawide 10mm fisheye to capture an extremely up close and personal view of some aquatic insect species on a recent field shoot. In addition to the cameras and lenses we've also used a Ronin-M powered gimbal, various field audio recording devices with stereo microphones, shotgun microphones and parabolic microphones to also capture the sounds of insects. Heck we're probably even going to end up with a few photos and videos taken on our mobile devices.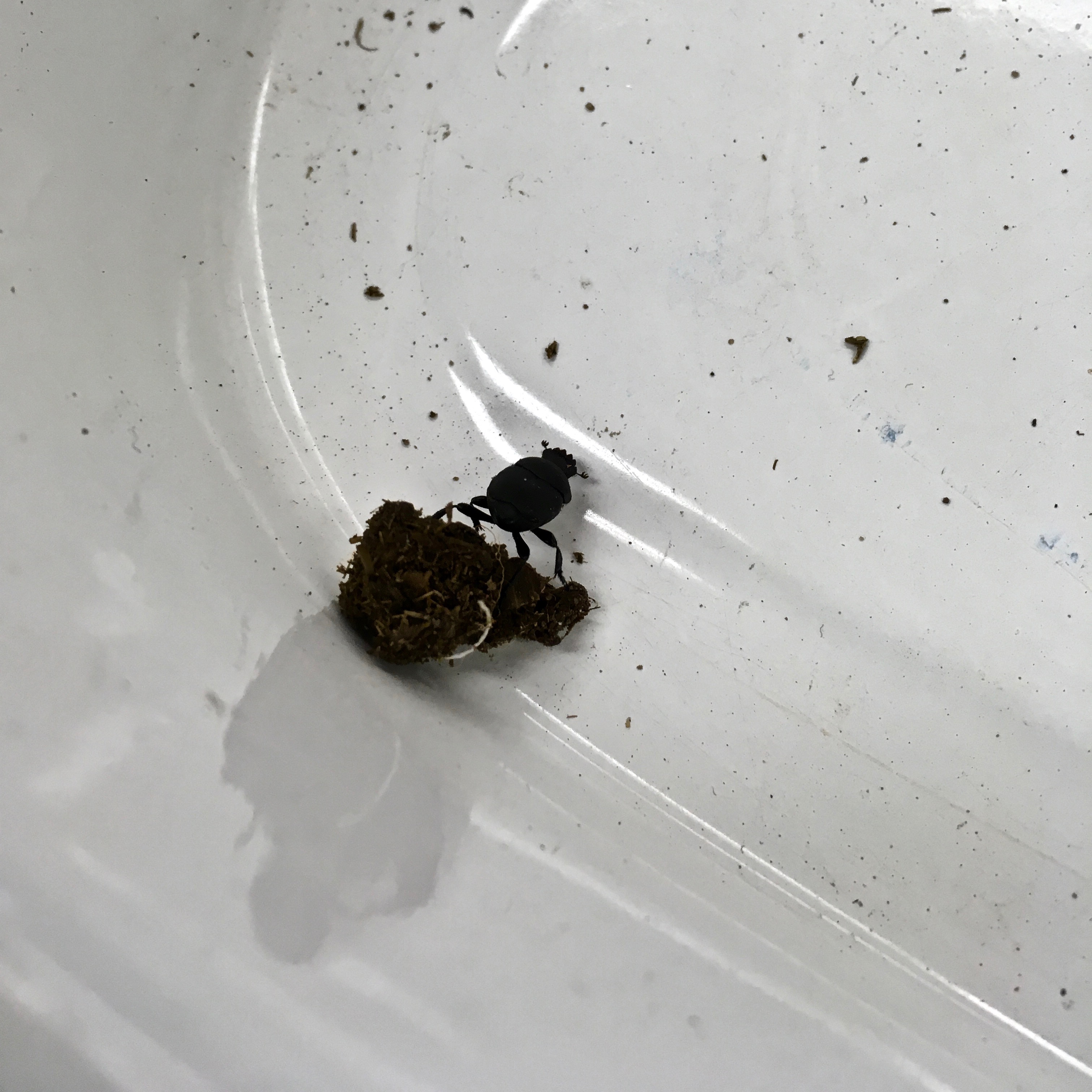 In the end we're using whatever tools it takes to make Bugs 101 the world's most interesting (and occasionally grossest) MOOC about insects that there is.
---