A few well-chosen resources on gender diversity and pronoun use can ease worries and strengthen communication.
Acceptance of diverse forms of gender expression, particularly in the workplace, is broader now than in most of living memory.
But that doesn't mean everyone is navigating the evolving language around personal identities gracefully. And when well-intentioned people lack the fundamental knowledge needed to create a welcoming space for their colleagues, they can end up doing more harm than good.
The challenge is further compounded by the rising tide of emotionally-charged media on the topic. Anti-trans legislation in North America and the UK has resulted in a flood of mis- and disinformation across the online spaces that, for many adults, have become their primary sources of news and information about the world.
Leading with Learning
To foster allyship and support for LGBTQIA2s+ community members in the workplace, it helps to centre high-quality educational content created for this purpose.
Even a few short, high-level resources can go a long way to establishing basic understanding among team members—especially if they are selected with care and introduced before toxic behaviours have begun to emerge.
At Onlea, we've seen rising demand for learning content that explains the fundamentals of gender expression and interacting with people with pronouns or gender identities that seem new or unfamiliar.
Several years ago, we partnered with subject matter experts from the Pride Centre of Edmonton on a short, friendly video on this very topic. This video has since been viewed hundreds of thousands of times and used as an educational resource by organizations all over North America.
You can license this clear and friendly video for use on your website, social media, or in your internal training materials.
Onlea has also worked with clients to develop similar learning content tailored to their organization, such as the University of St Andrews in Scotland. Together we expanded the script, adapted the visual design to the St Andrews brand, and incorporated voice narration from members of their community.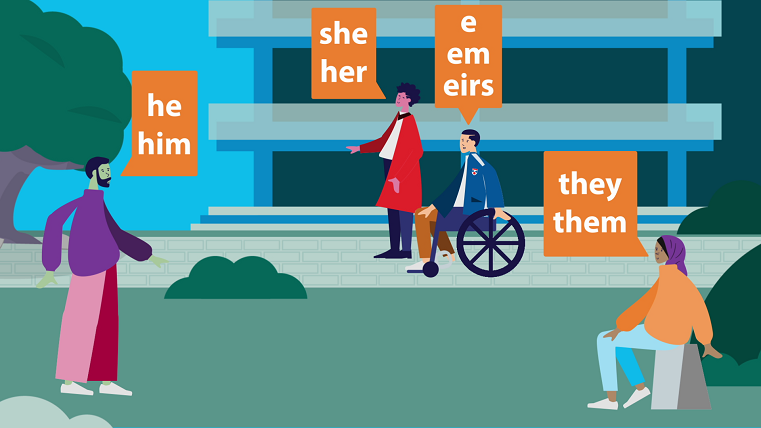 LGBTQIA2S+ allyship begins with education, but it's common for people to have a varied understanding of what gender diversity is.
With the right resources, managers establish a baseline of knowledge that reduces anxiety, provides a path toward respectful discussion, and helps team members avoid needless conflicts sparked by bad information.
Want to know more about licensing or creating educational resources for your organization? Send us a message or visit the LX Store!
---